Sunday, October 26, 2008
TP OPEN HOUSE
Hi everyone!
Do you want to do CCM proud & represent us in the major upcoming event, aka TP Open House 2009?
This year we're looking for 5 (more are definitely welcome!) acting talents to be in the cast of the 2 LT shows that will be held concurrently during the Open House. The show is a cross between American Idol, America's Next Top Model & The Apprentice that will showcase students from the eleven diplomas plus BSG grouping. Every diploma will be sending in students.
Commitment is essential if you are considering of being a part of the crew, but most of all, be prepared to stand in front of an audience & have fun!
Also, you'll get your 20 minutes of fame for each performance & SEAL POINTS!
Those interested, please contact Yanti (dyanti90@hotmail.com) by 29th October 08 for further details.
Thanks!
Saturday, July 5, 2008
BUSINESS STUDIES CLUB AGM! (:
HEEELLLLLO CCM DEARIES! :D
YOU ARE ALL INVITED TO BUSINESS STUDIES CLUB ANNUAL GENERAL MEETING! :D
THE DETAILS ARE ALL ABOVE! :D
wooh! attire would be school uniform!
so go dig your closet now!
& SEAL POINT WILL BE GIVEN FOR THIS EVENT! :D
& you get to see great performances too!
SO SEEE YOUUU THEREEE! :D
Wednesday, June 11, 2008
eggggggggggs
Today some of us who joined SJCC went for an egg factory tour @ Green-Tech Egg Industries Pte Ltd located in Tuas. They do pasteurized eggs, sanitised eggs, pre-cooked vacumn packed hard-boiled eggs it's insane the eggs were everywhere. o_o
Anyhoo here's photos from Kah Cheong's camera!
JOIN SJCC! 8D
Sunday, June 8, 2008
CCM OUTING YOWZ
Recently updated on w.w.g:
CCM's Photobucket - Garde Manger food photos 050608 & 060608
Wassup guys. (:
I'm back with more photos from the Garde Manger, so head on over
here
&
here
to see the photos for the respective days. I'm lazy to do up descriptions, so if you wanna know what something is, go ahead & ask via the tagboard alright?
CCMIG has come up with an event to spice up your 2 week break! Yanti beat me to it on the tagboard, but what the heck for formality's sake, here it is in detail:
What:
A gathering/outing/whatever you wanna call it
Where:
Meeting place -
Vivo Rooftop
, Destination -
Sentosa
Who:
Entire CCM cohort, your bfs/gfs/eyecandies, technically just
young people
!
How:
Head down via
NEL
& stop @ Harbourfront
& there's
no need to pay for anything
but your own hungry stomach & pleasure!
You guys will also be

getting the shirts you paid for

on the 16th, so make your way down eh?

FOR FRESHIES: Some of you guys paid, but there are still some who haven't. SO WE SHALL WAIT FOR THOSE WHO HAVEN'T BECAUSE WE ARE NICE PEOPLE, Y/Y? PLEASE GET YOUR FRIENDS TO COME ON THE 16TH & PAY KTHX!

FOR JUNIORS: YOUR SHIRTS HAVEN'T BEEN PAID FOR YET, SO NO SHIRT FOR YOU ON 16TH. But pay on that day & you'll get yours when school starts!

We've also got a line up of games for you guys, so don't worry we won't leave you to run around all by your lonesome selves. (:

SO GET OUT YOUR BEACHWEAR ALREADY!
Wednesday, June 4, 2008
Salads
Recently updated on w.w.g:
CCM's Photobucket - Garde Manger food photos 040608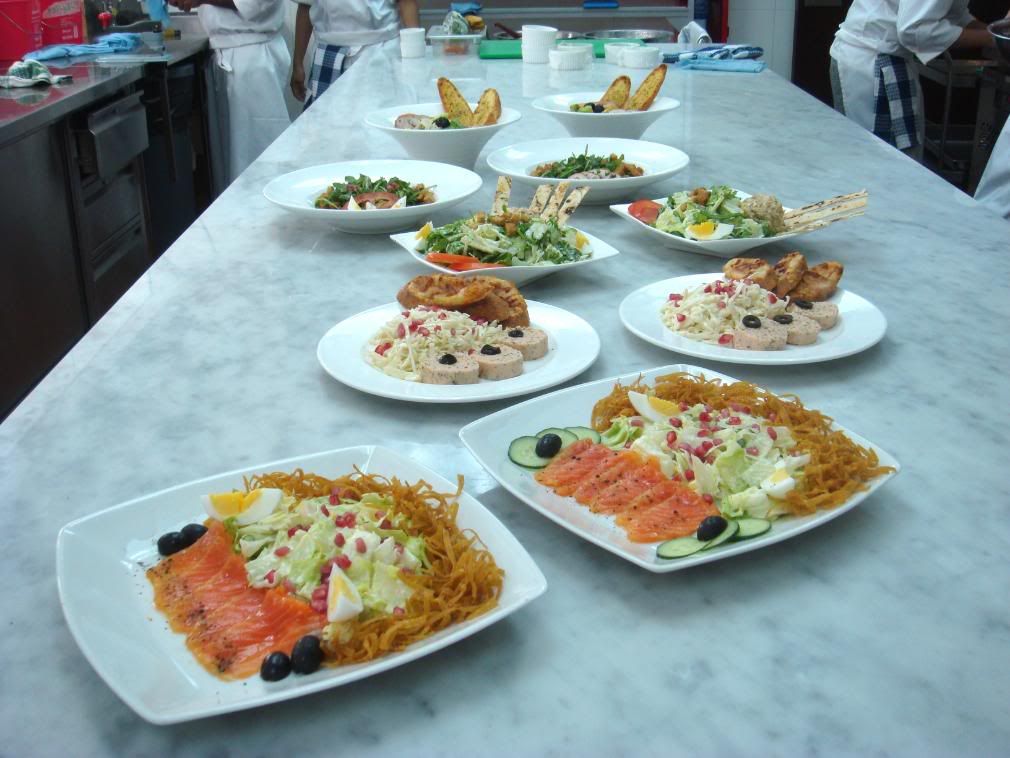 More photos
here
from Garde Manger! We did salads today woohoo. :D Menu's as follows:
Group 1
Salmon Mousse served with Cabbage tossed in Ranch Dressing & garnished with pomegranate fruit, sliced black olives & paprika-cheese Crostini.
Group 2
Gravad Lax served with Ice Berg Lettuce tossed in Cheese Dressing & garnished with cucumber slices, black olives, pomegranate fruit, hard-boiled egg wedges and fried Wonton strips.
Group 3
Tuna-Egg Salad served with Mixed Greens tossed in Sauce Vert & garnished with tomato slices, hard-boiled egg wedges, garlic croutons, & baked Tortilla strips.
Group 4
Smoked Chicken served with Romaine Lettuce tossed in Thousand Island dressing & garnished with pomegranate fruit, tomato slices, black olives & garlic Ciabatta.
Group 5
Smoked Chicken served with Arugula tossed in Tartar sauce & garnished with tomato slices, calamansi olives, hard-boiled egg wedges & garlic croutons.
Tuesday, June 3, 2008
FOOOOOOOD photos!
Recently updated on w.w.g:
CCM's Photobucket - Garde Manger food photos


Hi guys!
Garde Manger (Cold Kitchen) did 12 different appetizers today, so
here
are the photos for your viewing pleasure! Descriptions (excluding toasted pecans & cheese straws) are as follows:
1. Gravad lax with herb spread & frisee on fried potato chip topped with capers.
2. Zucchini & red pepper with cream cheese spread on cracker, topped with purple small greens.
3. Crabstick spread filled cucumber rings topped with chopped crabstick, lady's finger & cilantro
4. Red grapes rolled in garlic ginger cream cheese & finely chopped pistachios
5. Meatloaf on baked tortilla, topped with ginger root cream cheese, pomegranate fruit, garlic blossom chive & star fruit.
6. Honey-tabasco crostini topped with leaf lettuce, brined chicken, pineapple & walnut.
7. Poached carrot topped with garlic ginger cream cheese, star fruit & pecan.
8. Fried wonton skin topped with tumeric-curry flavoured cream cheese, chicken ham, pomegranate fruit & garlic blossom chive.
9. Tuna-Egg salad on cracker with cucumber slice, black olive & tomato wedge.
10. New potato topped with herb cheese, enoki mushrooms & garlic blossom chive.
They've been labeled in the photos, so go on & take a peek.
Also, watch this space for our upcoming event that's happening in the 2 week break. :D
Sunday, May 25, 2008
CCM bonding session!
Recently updated on w.w.g:

New links - Amanda (freshie) & CCM's photobucket


Hey ya'll!
A huge huge thanks from CCMIG to everyone who turned up on the 24th for our bonding session. You all rocked the whole event & made it a total blast. We really couldn't have asked for more from you guys. (:
So
here's
the link to the photos & if you want a certain photo to be photoshopped so you can use it as your msn display, your wallpaper, your handphone wallpaper, your new blog layout, to cover your entire house with or just to stare at your eyecandy, feel free to ask on the tagboard & I'll get right down to making that photo as amazing as possible!
Watch out for our next event dudes. \8D/